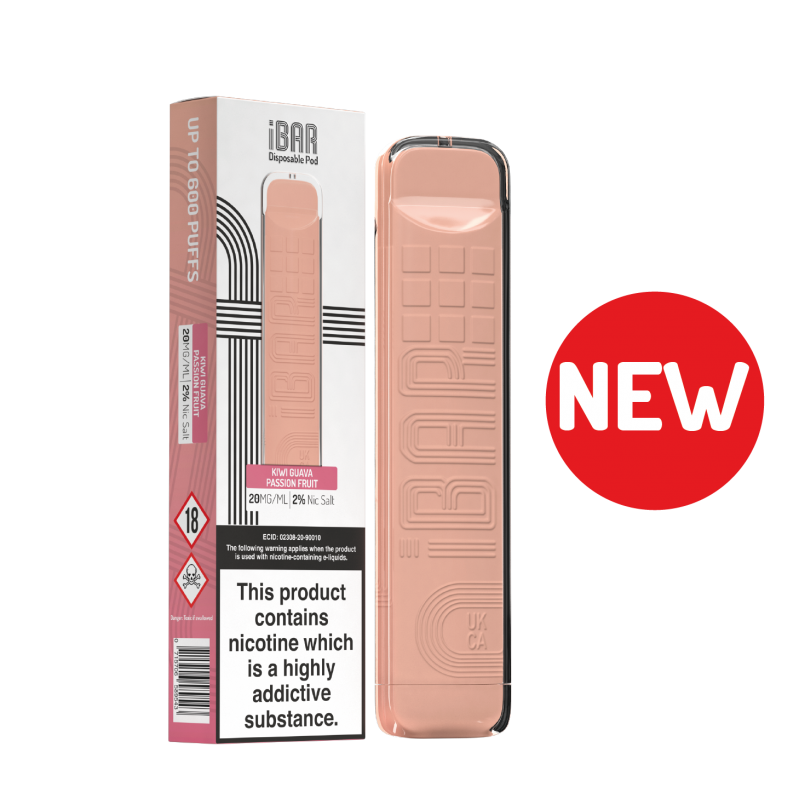 iBar by iBreathe - Kiwi Guava Passion Fruit (2% - 20mg)

3 fruits in this revolutionary range of e-liquid that brings you a brand new layer of vaping. An explosion of kiwi on each inhale while the flavour of Guava swirls around. Hold it in and finally let the Passion Fruit flavour bursts out on the exhale for a truly unique vaping experience.
Nicotine Strength
PG / VG Ratio: 50PG 50VG
Quality Control
iBreathe specialise in crafting premium e-liquid refills with the highest graded and quality ingredients. iBar by iBreathe disposable pods are produced using aseptic technique by professionals using only ingredients deemed safe for human consumption.
All our iBreathe products are certified and compliant to TPD, CHIP, RoHS , MSDS, CE , CPT (Child Proof Safety). Our secret formula e liquid Ingredients are tested and screened for purity by UKAS laboratories using GC/MS testing methods.
Why Vape iBreathe?
✓ TPD Compliant
✓ UK VIA Member
✓ MHRA Approved

✓ CHIP and RoHS Compliant, CE Certified
✓ CPT Tested (Child Proof Safety)
✓ Unique Taste/Secret Formula
✓ Ingredients are tested and screened for purity by UKAS laboratories using GC/MS testing methods
✓ Compliance to all regulatory requirements for safe and legal sale of electronic cigarette products
✓ Product Liability
✓ 30 Days' Functional Warranty covering repairs & replacement
iBar - Kiwi Guava Passion Fruit