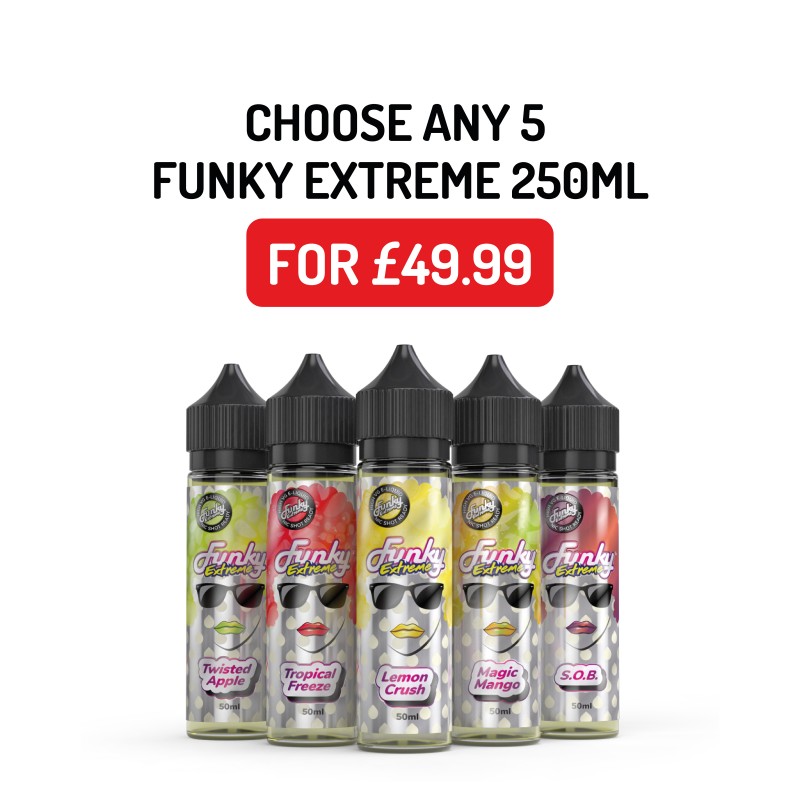 5 Pack Funky Extreme Juice
Available in 5 unique flavours to choose from, you won't find an e-liquid that tastes the same as Funky Extreme Juice. If you love your sweet & aromatic flavours, Magic Mango is the one for you. For the fruit fans, you can't go wrong with the trio of strawberry, orange & blackcurrant in S.O.B. Fancy a refreshing & tangy vape? Then look no further than Lemon Crush and Twisted Apple. And let's not forget the menthol fans - Tropical Freeze offers an icy inhale with a fruity twist.
Perfect for cloud chasing
Formulated using 70% vegetable glycerol (VG) and 30% propylene glycol (PG), the high VG content produces large volumes of vapour clouds. Funky Juice is suited for use with coil resistances lower than 1.0 Ohm. For optimum performance, a coil resistance between 0.15 - 0.5 Ohm is recommended.
Large 50ml Bottles
Each Funky Juice flavour comes in a large 50ml bottle. That's fives times more e-liquid than a traditional 10ml bottle, offering you the best value for money.


Quality Control
iBreathe specialise in crafting premium e-liquid refills with the highest graded and quality ingredients. iBreathe premium e-liquid Refills are produced using aseptic technique by professionals using only ingredients deemed safe for human consumption.All our iBreathe products are certified and compliant to TPD, CHIP, RoHS , MSDS, CE , CPT (Child Proof Safety). Our secret formula e-liquid Ingredients are tested and screened for purity by UKAS laboratories using GC/MS testing methods.


Why Vape iBreathe?
✓ TPD Compliant
✓ ECITA (Electronic Cigarette Trade Association) Member
✓ CHIP and RoHS Compliant, CE Certified
✓ CPT Tested (Child Proof Safety)
✓ Unique Taste/Secret Formula
✓ Ingredients are tested and screened for purity by UKAS laboratories using GC/MS testing methods
✓ Compliance to all regulatory requirements for safe and legal sale of electronic cigarette products
✓ Product Liability
✓ 30 Days' Functional Warranty covering repairs & replacement
5 Pack Funky Extreme