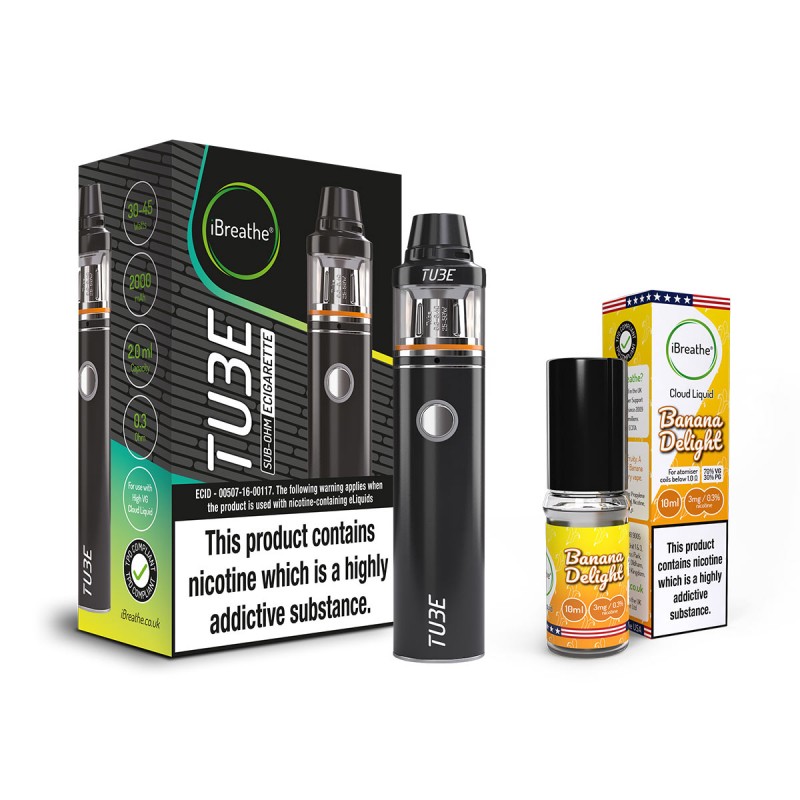 Tube Sub-Ohm E-Cigarette & 10ml Cloud Liquid
Power and simplicity combined in an ultra-sleek tube body.
Technical Specification
Dimensions: 24.5 x 75mm
Weight: 87g
Material: Stainless Steel
Connection: 510 Thread
Capacity: 2000mAh
Power: 45W
Tank
Dimensions: 24.5 x 42mm
Weight: 43g
Pyrex Glass / Stainless Steel
Capacity: 2.0ml
Filiing System: Top-Filling
Liquid Type: High VG / Cloud Liquid
Atomiser Resistance: 0.3 Ohm
Features:
Precision Engineered
Easy To Maintain
Economical In Use
Extra Safety Features
Free Shipping
Warranty:
All our products come with a 28-day guarantee. Purchasers should be aware that our electronic cigarette atomizers,rechargeable batteries and chargers, although made to the highest quality are functional devices that may fail or degrade over a period of time, especially if in constant use (an electric cigarette atomizer's natural lifespan is around 14-60 days and an electronic cigarette batteries expected lifespan is 2-3 months).
Product Care:
To ensure optimal battery performance, we advise that the battery contacts are regularly cleaned. Our iBreathe Electronic Cigarette Batteries contain micro-electronic circuitry and microprocessors. Users should store and handle these items with special care, and we advise our customers not to store their electronic cigarettes with metallic or magnetized objects, or electronic transmitting devices, such as keys and mobile phones and to avoid extremely high or low storage temperatures, therefore extending their lifespan and functional use.
All our iBreathe products are certified and compliant to TPD, CHIP, RoHS , MSDS, CE , CPT (Child Proof Safety). Our secret formula e liquid Ingredients are tested and screened for purity by UKAS laboratories using GC/MS testing methods.
Why Vape iBreathe?
✓ TPD Compliant
✓ ISO 9001:2008 UK Registered Firm
✓ ECITA (Electronic Cigarette Trade Association) Member
✓ CHIP and RoHS Compliant, CE Certified
✓ CPT Tested (Child Proof Safety)
✓ Unique Taste/Secret Formula
✓ Ingredients are tested and screened for purity by UKAS laboratories using GC/MS testing methods
✓ Compliance to all regulatory requirements for safe and legal sale of electronic cigarette products
✓ Product Liability
✓ Full After Care & Warranty
To verify with MHRA that this iBreathe product is TPD compliant, use the following ECID codes.
Tube kit
ECID 00507 1600117
Tube Sub-Ohm E-Cigarette & 10ml E-Liquid