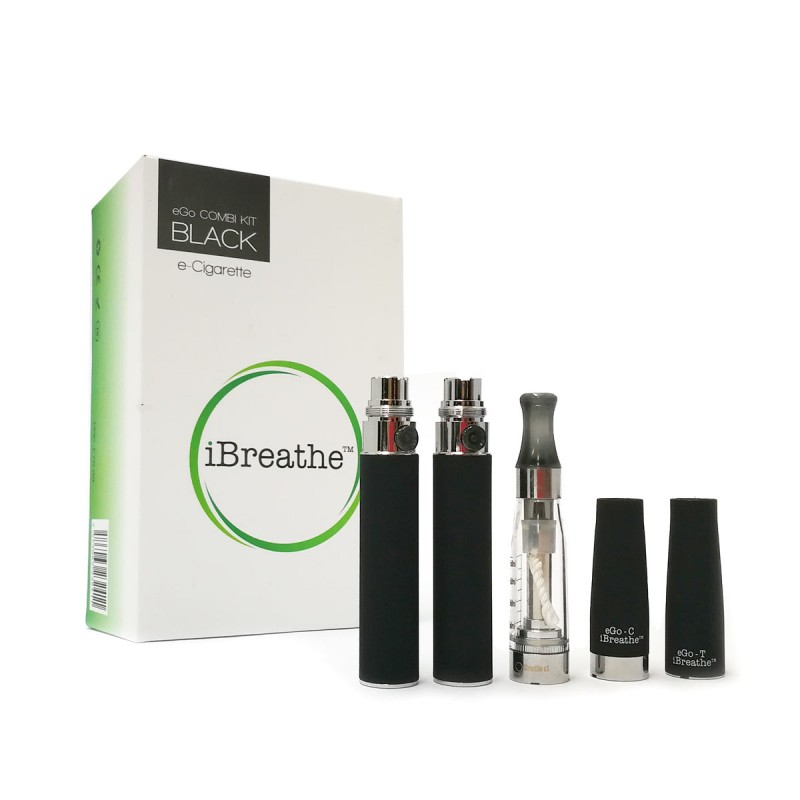 Combi E-Cigarette Kit
With so many systems out there it's hard for one to decide which system is best for you, whats suited for one individual isn't always suited to another. iBreathe Combi Kit eliminates that problem - having the option to try all best e-cigarette systems within one kit!
Features:
Extra safety feature
Economical in use
Easy to maintain Precision engineered
Free Shipping
iBreathe Black Combi Kit - (Also Available in Silver)
2 x 650mAh Battery
1 x iBreathe eGo Tank
1 x iBreathe eGo C (Changeable System)
1 x iBreathe eGo T
3 x iBreathe Atomizers for eGo C
5 x iBreathe Cartridges
1 x USB Charger
1 x Manual
Battery:
Size: 75m
Battery Capacity: 650mAh
Full Battery can last 800 - 1000 puffs
Working Voltage 3.3v-4.2v
Charging Voltage 4.2v
Charging Time: 2-3 hours
The iBreathe battery series have the battery power protection system, for the first time use. Press the switch button five times quickly, the battery will turn on and another five clicks will turn it off. Please DO NOT leave Battery unattended whilst charging.
NOTE: PRIME A IBREATHE eGo C AND eGo T ATOMISER BEFORE FIRST TIME USE!
1. Insert a full cartridge into your atomiser and attach the battery. DO NOT PRESS THE BATTERY BUTTON. Draw on the mouthpiece as you would normally, taking two sharp intakes.
2. DO NOT PRESS THE BATTERY BUTTON. Put the cartridge in your mouth and blow gently and evenly once.
3. The atomiser is now primed, vape as normal.
Warranty:
All our products come with a 28-day guarantee. Purchasers should be aware that our electronic cigarette atomizers,rechargeable batteries and chargers, although made to the highest quality are functional devices that may fail or degrade over a period of time, especially if in constant use (an electric cigarette atomizer's natural lifespan is around 14-60 days and an electronic cigarette batteries expected lifespan is 2-3 months).
Product Care:
To ensure optimal battery performance, we advise that the battery contacts are regularly cleaned. Our iBreathe Electronic Cigarette Batteries contain micro-electronic circuitry and microprocessors. Users should store and handle these items with special care, and we advise our customers not to store their electronic cigarettes with metallic or magnetized objects, or electronic transmitting devices, such as keys and mobile phones and to avoid extremely high or low storage temperatures, therefore extending their lifespan and functional use.
Why Vape iBreathe?
✓ TPD Compliant
✓ ECITA (Electronic Cigarette Trade Association) Member
✓ CHIP and RoHS Compliant, CE Certified
✓ CPT Tested (Child Proof Safety)
✓ Unique Taste/Secret Formula
✓ Ingredients are tested and screened for purity by UKAS laboratories using GC/MS testing methods
✓ Compliance to all regulatory requirements for safe and legal sale of electronic cigarette products
✓ Product Liability
✓ 30 Days' Functional Warranty covering repairs & replacement
Combi E-Cigarette Kit