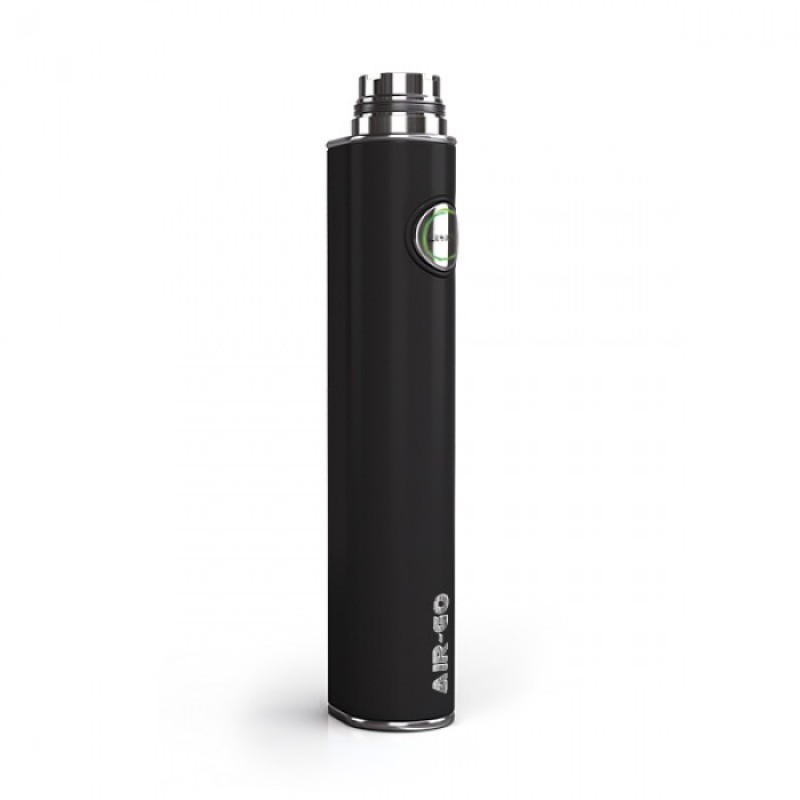 Air-Go 650mAh Variable Voltage Battery
Patented, ergonomic design
Micro USB Charging
Self Locking Function
LED BatteryPower Indicator
Custom Built Battery Protection System
Variable Voltage
The New iBreathe Air-Go 650mAh Battery is perfect for any iBreathe Atomisers. The new Battery is perfect to hold, with a unique matte finish, it will never slip out of your hand!
The Air-Go Battery has a unique Micro USB charging system along with a battery power protection system to ensure, even if you leave the battery on charge, there will be absolutely no danger of overheating. All iBreathe batteries are equipped with the Battery Power Protection System (BPPS).
Safety and Satisfaction for our customers who use our products is our foremost concern. Through rigorous testing and feedback from our customers we are one of the top 3 e-cigarette suppliers in the UK!
Getting started -
5 continuous clicks of the button will power up the battery, at this stage the power output is set at steady 3.6V emitting a GREEN light.
To increase the power, click the power button a further 3 times and this will increase the power up to 3.8V emitting an AMBER light.
Finally, a further 3 clicks will increase the power to 4.0V emitting a RED light.
PLEASE NOTE - When at the highest Voltage (4.0V), do not hold on to the Power button for more than 10 seconds when drawing on the e-cigarette.
The general rule is, the higher the output the cloudier the vape.
Charging Instruction -
Attach the Micro USB to the bottom of the battery. When Plugged into the mains, the LED ring will flash 3 times and the chargers light indicator will turn RED. When the LED indicator turns GREEN, charging is complete.
Please note - Once set up with the tank, the Button must be held down while drawing on the e-Cigarette and released once your draw is complete.
Battery Specification
Battery Capacity: 650mAh
Working Voltage 3.2v-4.0v
Charging Voltage 4.2v
Battery Life above 300 times recycling use
Charging Time: 2-3 hours
Features:
Precision Engineered
Easy To Maintain
Economical In Use
Extra Safety Features
Free Shipping
Warranty
All our products come with a 28-day guarantee. Purchasers should be aware that our electronic cigarette atomisers, rechargeable batteries and chargers, although made to the highest quality are functional devices that may fail or degrade over a period of time, especially if in constant use (an electric cigarette atomiser's natural lifespan is around 14-60 days and an electronic cigarette batteries expected lifespan is 2-3 months).
Product Care
To ensure optimal battery performance, we advise that the battery contacts are regularly cleaned. Our iBreathe Electronic Cigarette Batteries contain micro-electronic circuitry and microprocessors. Users should store and handle these items with special care, and we advise our customers not to store their electronic cigarettes with metallic or magnetised objects, or electronic transmitting devices, such as keys and mobile phones and to avoid extremely high or low storage temperatures, therefore extending their lifespan and functional use.
All our iBreathe products are certified and compliant to TPD, CHIP, RoHS , MSDS, CE , CPT (Child Proof Safety). Our secret formula e liquid Ingredients are tested and screened for purity by UKAS laboratories using GC/MS testing methods.
Why Vape iBreathe?
✓ TPD Compliant
✓ ECITA (Electronic Cigarette Trade Association) Member
✓ CHIP and RoHS Compliant, CE Certified
✓ CPT Tested (Child Proof Safety)
✓ Unique Taste/Secret Formula
✓ Ingredients are tested and screened for purity by UKAS laboratories using GC/MS testing methods
✓ Compliance to all regulatory requirements for safe and legal sale of electronic cigarette products
✓ Product Liability
✓ 30 Days' Functional Warranty covering repairs & replacement
Air-Go 650mAh Variable Voltage Battery