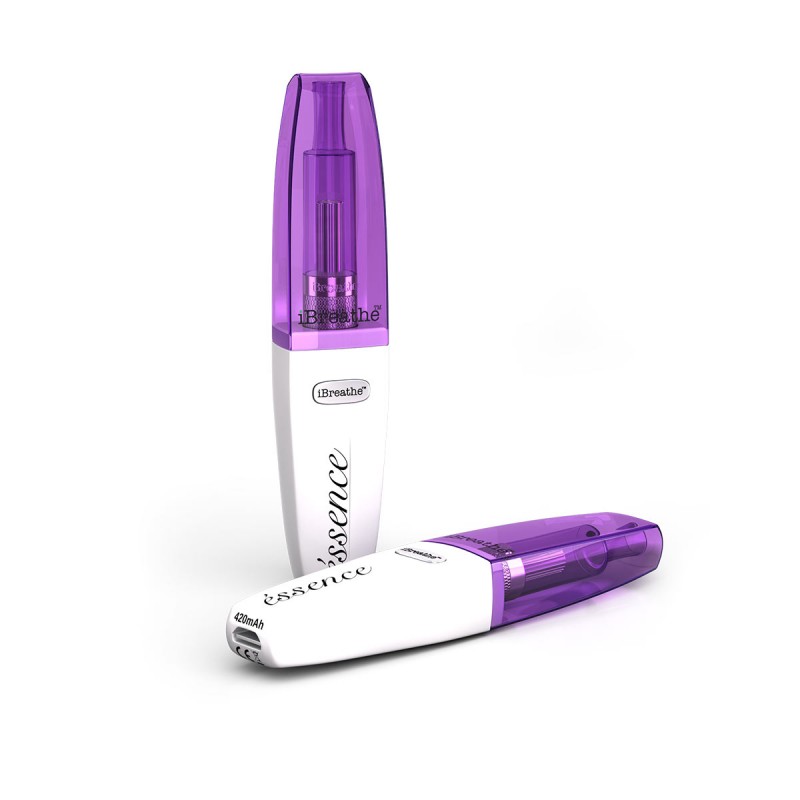 Essence E-Cigarette Kit
The iBreathe Essence is the most innovative and stylish e-cigarette in the industry. It is small, light and easy to carry, be it in your pocket or purse. You will be extremely pleased with the convenience and how surprisingly easy to use this product is.
The Essence is super easy to assemble and maintain. A dust-free cap makes it easier to keep the essence clean and clear.
This Fabulous new piece of kit utilises bottom-coil heating which gives off heavy vapour without the burnt taste.
The Coil is replaceable after a period of constant use.
Specification
Length : 110mm
Width : 24mm
Weight : 60g
Atomiser Capacity: 1.9ml
Coil Resistance: 2.0ohm
Battery Capacity: 420mAh
Refilling couldn't be simpler!
Unscrew and detach the atomiser from the battery, then unscrew the atomiser at the bottom. Now drip the e-Liquid along the bottom inner wall of the atomiser tube, its as simple as that.
Priming the Atomiser before use.
After you have filled the atomiser with your desired Liquid, WITHOUT holding the power button, take 3 slow and deep draws of the e-cigarette until you get hints of the flavour of the liquid. You are now Ready to vape.
Convenient and Safe Charging.
With the New and more slick micro-USB cable, you needn't ever worry about losing charger. Simply plug and charge with Wall Chargers, Car Chargers, Power Banks, Laptop or PC or anything with a USB! The iBreathe essence make excellent use of a rechargeable Lithium Battery designed with a custom made fail-safe auto power-off circuit to prevent the inner chip from short circuiting through prolonged charging.
Quality Control
iBreathe specialise in crafting premium e-liquid refills with the highest graded and quality ingredients. iBreathe premium e-liquid Refills are produced using aseptic technique by professionals using only ingredients deemed safe for human consumption.
All our iBreathe products are certified and compliant to TPD, CHIP, RoHS , MSDS, CE , CPT (Child Proof Safety). Our secret formula e liquid Ingredients are tested and screened for purity by UKAS laboratories using GC/MS testing methods.
Why Vape iBreathe?
✓ TPD Compliant
✓ ECITA (Electronic Cigarette Trade Association) Member
✓ CHIP and RoHS Compliant, CE Certified
✓ CPT Tested (Child Proof Safety)
✓ Unique Taste/Secret Formula
✓ Ingredients are tested and screened for purity by UKAS laboratories using GC/MS testing methods
✓ Compliance to all regulatory requirements for safe and legal sale of electronic cigarette products
✓ Product Liability
✓ 30 Days' Functional Warranty covering repairs & replacement
Essence E-Cigarette Kit