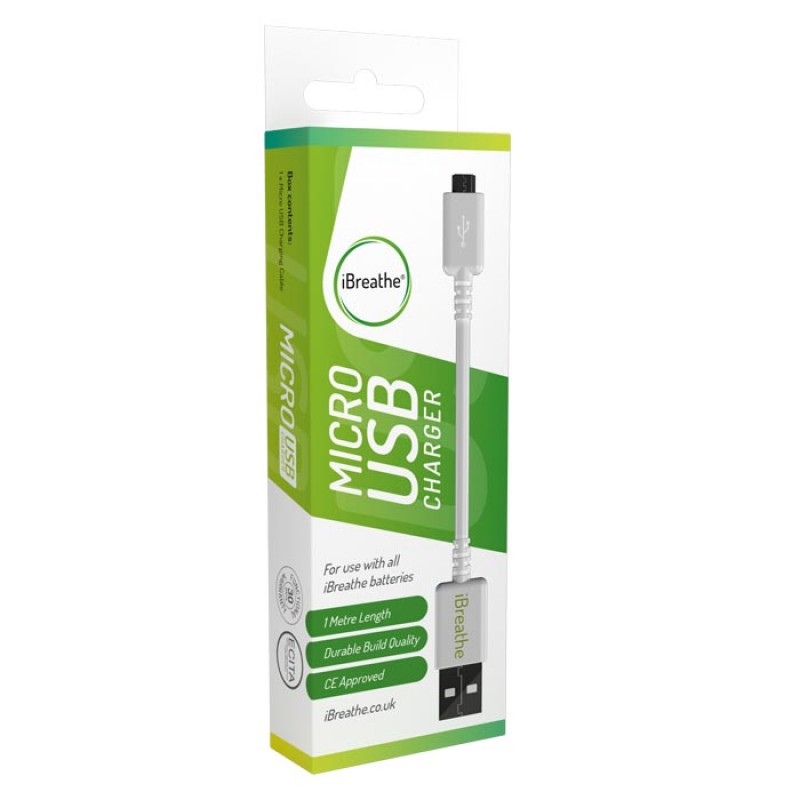 Micro USB Charger
The iBreathe Micro USB charger is extremely small & lightweight. Perfect for charging at your desk using a computer USB port for a dedicated USB mains plug.
Box Contents
1 x Micro USB Charger Cable
Technical Specification
Length - 1 Metre
Weight - 22.5g
USB Type - A-Male to Micro-B
Input DC 5V
Output DC 4.2V - 420mA
Quality Control
iBreathe specialise in crafting premium e-liquid refills with the highest graded and quality ingredients. iBreathe premium e-liquid Refills are produced using aseptic technique by professionals using only ingredients deemed safe for human consumption.
All our iBreathe products are certified and compliant to TPD, CHIP, RoHS , MSDS, CE , CPT (Child Proof Safety). Our secret formula e-liquid Ingredients are tested and screened for purity by UKAS laboratories using GC/MS testing methods.
Why Vape iBreathe?
✓ TPD Compliant
✓ ECITA (Electronic Cigarette Trade Association) Member
✓ CHIP and RoHS Compliant, CE Certified
✓ CPT Tested (Child Proof Safety)
✓ Unique Taste/Secret Formula
✓ Ingredients are tested and screened for purity by UKAS laboratories using GC/MS testing methods
✓ Compliance to all regulatory requirements for safe and legal sale of electronic cigarette products
✓ Product Liability
✓ 30 Days' Functional Warranty covering repairs & replacement
Micro USB Charger