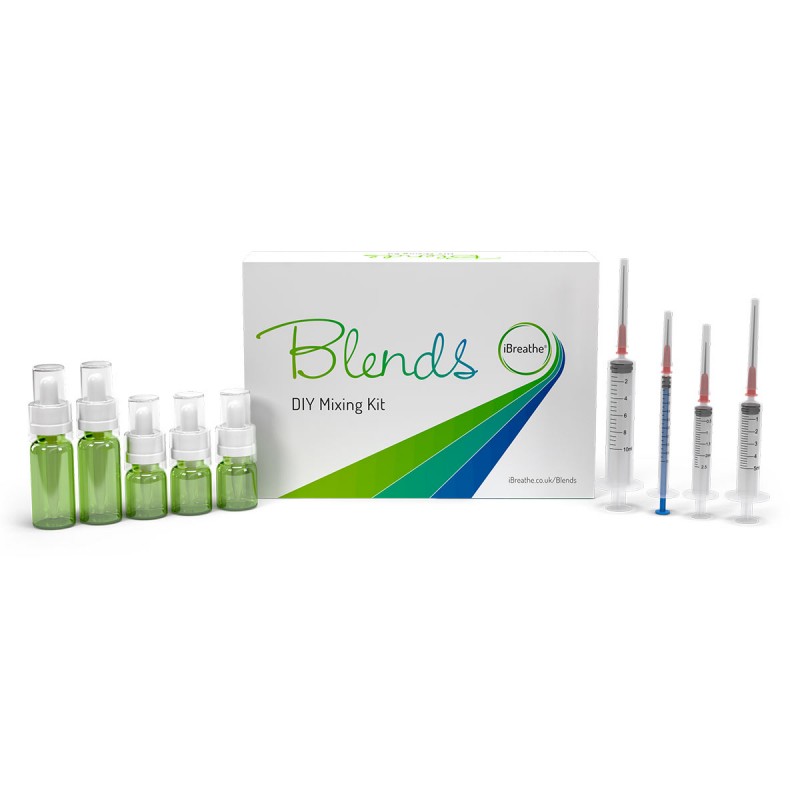 DIY Mixing Kit
Blend all of your components together using your Mixing Kit. Shake your mixture and let it stand for 15 - 30 minutes. Your mixture is ready to vape. Enjoy!
Box Contents
1.0 ml syringe
2.5 ml syringe
5.0 ml syringe
10 ml syringe
3 x 10ml bottle
2 x 30ml bottle
Bottle Labels
Information Leaflets
Why Blends
Blend your own unique flavour combinations
Choose from over 50 flavour concentrates
Cost-effective alternative to pre-mixed e-liquids
Blend your own unique e-liquid flavours!
Blends is a new range of e-liquid products by iBreathe. Unlike the traditional Premium & Cloud Liquids that are ready-to-use (blended), using precise & unique iBreathe formulations - the Blends range provides you with the separate components of an e-liquid so that you can blend your own unique e-liquid flavours. iBreathe Blends gives you, the vaper, ultimate control so that you can be creative and vape your own flavours – flavours that are so unique that you won't be able to find them elsewhere. What's more, iBreathe Blends is super fun to use!
Quality Control
iBreathe specialise in crafting premium e-liquid refills with the highest graded and quality ingredients. iBreathe premium e-liquid Refills are produced using aseptic technique by professionals using only ingredients deemed safe for human consumption.
All our iBreathe products are certified and compliant to TPD, CHIP, RoHS , MSDS, CE , CPT (Child Proof Safety). Our secret formula e-liquid Ingredients are tested and screened for purity by UKAS laboratories using GC/MS testing methods.
Why Vape iBreathe?
✓ TPD Compliant
✓ ECITA (Electronic Cigarette Trade Association) Member
✓ CHIP and RoHS Compliant, CE Certified
✓ CPT Tested (Child Proof Safety)
✓ Unique Taste/Secret Formula
✓ Ingredients are tested and screened for purity by UKAS laboratories using GC/MS testing methods
✓ Compliance to all regulatory requirements for safe and legal sale of electronic cigarette products
✓ Product Liability
✓ 30 Days' Functional Warranty covering repairs & replacement
DIY Mixing Kit